An email from Cambodia, one of the newest members of the Fédération Équestre Internationale (FEI) the international governing body of equestrian sports bring back fond memories of a visit to the country's capital Phnom Penh where I rode at the Cambodia Country Club (CCC) outside of town.
My email was a reminder of the latest edition of the annual Norodom Sihanouk Du Cambodge Show Jumping Championships held at the Club, which also hosts the headquarters of the Cambodia Equestrian Federation.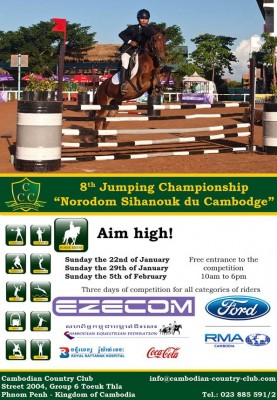 It may not rank high on FEI rankings but like a lot of Asian states Cambodia has had a long history of equestrianism – see the riders depicted on bas-reliefs at Ankgor Wat.
The Khmer horsemen of the past are riding again Local star Sim Narith, last year's overall winner of the Grand Prix division, got to ride through support from the Maddox Jolie-Pitt Foundation, a NGO helping local orphans. The Country Club generously employs and trains some of the Foundation's beneficiaries.
Its President, Philippe Garcia, is the dynamo of the reemergence of equestrianism locally and while it may remain the preserve of the expats and locals wealthy enough to pay the Country Club's fees, which are comparable to European rates. The club uses Khmer ponies and a bunch of thoroughbreds retired from racing in Bangkok.