It was a long drive down to Daxing district last weekend to see a club that opened only last month, and which I'd heard of via an advert in the otherwise worn-out That's Beijing magazine. Beijing International Equestrian Club, its Malaysian GM told us, was built by Messr Tang and Wang, two local tycoons – "in financial services." It's far more spacious and custom-built than other clubs I've been to in China, but then land in industrial Daxing (there's a Kraft factory up the road) is cheaper and more plentiful than in Shunyi, where most of the other clubs, including Equuleus, are located.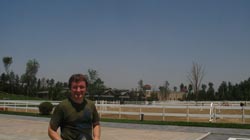 The latter, usually booked out on weekends, is far busier than the Interational, but then this is a very new club, and it sets a new standard in quality and comfort – for horses and riders. After changing in the well-upholstered and rambling club house, I rode one of the European warmbloods, with instruction from a local trainer. The friendly 20-something from the northerly city of Changchun who assured me he was learning and living much better in his current job than he did in earlier gigs in other Beijing clubs. Interesting was the comment by the aforementioned general manager, Jim: each club horse does a maximum two hours work a day – "anything more is torture, other clubs torture the horses." The fee's alright: a package of five lessons for RMB1,500, though puzzingly you pay RMB600 for a one-off lesson. Obviously the package deal is intended to encourage return visits, as it's a bit of a way out here.
The ad in That's Beijing didn't convince me – particularly since the club website address indicated doesn't yet work – but the hour's journey down to the Beijing International Equestrian Club has convinced me that investment and standards in China's equestrian club scene are both still on a sharp upward curve.